Choosing a TV is a very complicated process that consists of several steps. First, you need to figure out what kind of TV you want, and this guide can help you with that.
But another important question is "How wide is a 65 inch TV? This question is especially important if the room where the TV will be placed is quite small. In such a situation, you need to understand the size of the TV so that it will be good in its place.
How big is a 65 inch TV?
Since today's TVs have virtually frameless displays, the size of the TV is almost entirely dependent on the size of the screen. The size of the TV consists of three parameters: width, height and thickness and you should consider all three of these parameters when choosing a TV. Usually, there is very little difference between the diagonal of the TV and the diagonal of the screen, about 0.5 inches, so it almost entirely depends on the screen size.
What are the dimensions of a 65 inch TV?
TV dimensions are presented in WidthxHeighxDepth parameters (WxHxD). You should understand, that for different models such dimensions may vary slightly, but that's generalized (most common) 65 inch TV dimensions.
The width of the 65 inch TV is 58 inches or 147 cm.
The height of the 65 inch TV is 34 inches (or 86 cm) without a stand and 36 inches (around 90 cm) with a stand.
The thickness of the 65 inch TV is 1.7 inches (or approximately 4.3 cm).
Also, don't forget that if you don't mount your TV on wall, you would also need to use stand. The average stand size is around 11.6 inches.
So, the size of a 65 inch TV would be:
Without stand: 58 x 34 x 1.7
With stand: 38 x 36 x 13.3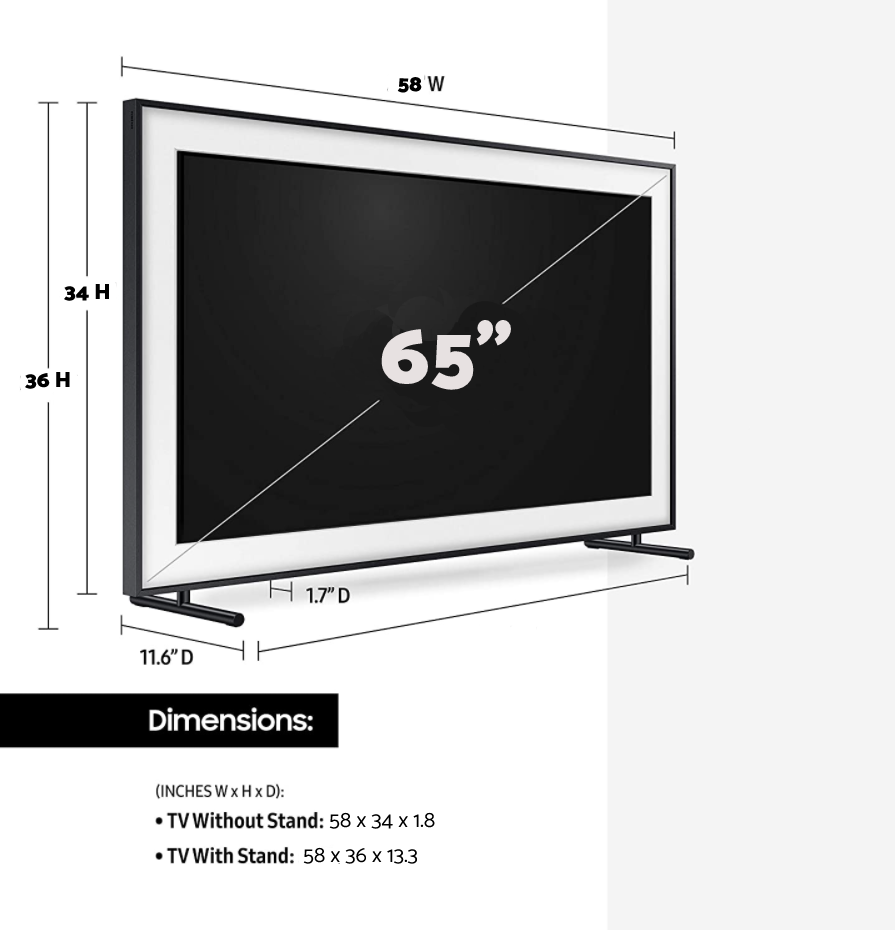 How long is a 65 inch TV
How long the TV depends on its width. In fact, width is the only thing that will not change with technology. Yes, companies are working on constantly reducing the thickness of TVs (thanks to better matrices and less backlighting thickness). The height of the display can also stop being static with rollable TVs. But we can say for sure that there is almost no way to reduce the width of TVs.
65 inch TV dimensions for Samsung, LG and Sony
Of course, it is very difficult to provide information for all TVs. However, in the table below I have provided information for Samsung, LG, and Sony TVs. All sizes are without stands.
| | | |
| --- | --- | --- |
| TV | WxHxD (inches) | WxHxD (cm) |
| LG OLED TV | 57.0″ x 32.7″ x 1.8″ | 144.78 x 83 x 4.57 |
| LG Nano TV | 57.3″ x 33.1″ x 2.8″ | 145.5 x 84.1 x 71.12 |
| LG LED TV | 57.3″ x 32.9″ x 2.5″ | 145.5 x 83.57 x 6.35 |
| Samsung QLED TV | 56.9″ x 32.7″ x 2.1″ | 144.5 x 83.06 x 5.33 |
| Samsung Terrace series | 57.7″ x 33.5″ x 2.4″ | 146.56 x 85.09 x 6.14 |
| Samsung Frame series | 57.2″ x 32.7″ x 1.8″ | 145.29 x 83.06 x 4.57 |
| Samsung LED TV | 57.1″ x 32.7″ x 2.4″ | 145.03 x 83.06 x 6.14 |
| Sony LED TV | 58″ x 33″ x 2.4″ | 147.32 x 83.82 x 6.14 |
If after reading this article, you understood that you need a TV of another size, I recommend you to read this guide about all TV screen sizes dimensions.